Arkansas Hospitals with Scarce Resources Use COVIDComm to Transfer 101 Patients: January 5, 2021 - (KATV) For three weeks, Arkansas has been using a statewide transfer system, called COVIDComm, to transfer COVID-19 patients to hospitals that have space.
Ambulance Crews in Arkansas Strained; Pandemic's Calls Coming More Often, from Farther Away: December 28, 2020 (Arkansas Democrat Gazette) Many Arkansas emergency medical services are seeing increased call volume and hospital wait times going into the winter months of the pandemic, magnifying long-standing staffing and funding issues in the industry.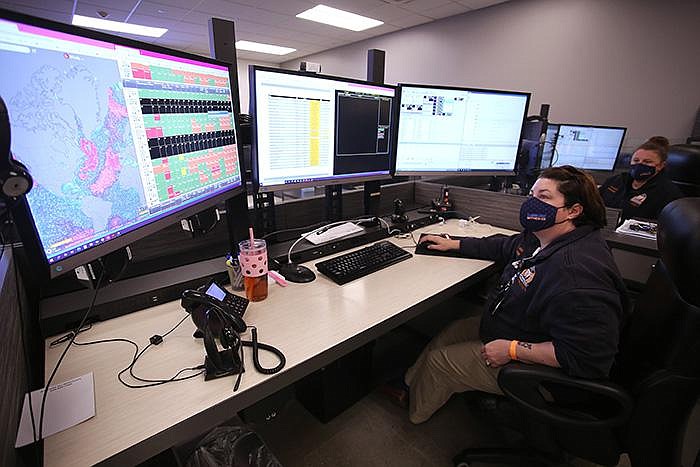 COVIDComm Begins Transferring COVID-19 Patients to Hospitals that Have Space: December 16, 2020 - (KATV) Hospitals in Arkansas keep getting fuller, but now they have a way to transfer patients across the state to wherever there is room. This new, statewide transfer system, called COVIDComm, went live Wednesday morning.
System to Transfer Arkansas COVID Patients to Hospitals Goes Live Wednesday: December 15, 2020 - (THV11) A new program for the state's healthcare system will allow doctors to send patients fighting COVID-19 to the next best hospital if some start to fill up.
EmergeSystem to transfer Arkansas COVID patients to hospitals goes live Wednesdayncy Responders are Fighting COVID-19 Outbreak on the Front Lines: March 31, 2020 - (KATV) A Little Rock firefighter tested positive for the virus earlier this month. Another group of people fighting on the front lines of the COVID-19 outbreak is first responders.
4 MEMS Employees in Self-quarantine; Agency Takes New Precautions amid Pandemic: March 18, 2020 - (KATV) Four Metropolitan Emergency Medical Services (MEMS) employees have been quarantined after meeting federal guidelines to self-isolate amid the coronavirus outbreak, the ambulance service said Wednesday.
MEMS Ambulance Service Creates Coronavirus Protocol in Case of Outbreak: February 25, 2020 - (KATV) Even though there are no confirmed cases in Arkansas, MEMS ambulance service is doing just that to hopefully protect not only their staff but their patients from this deadly disease.